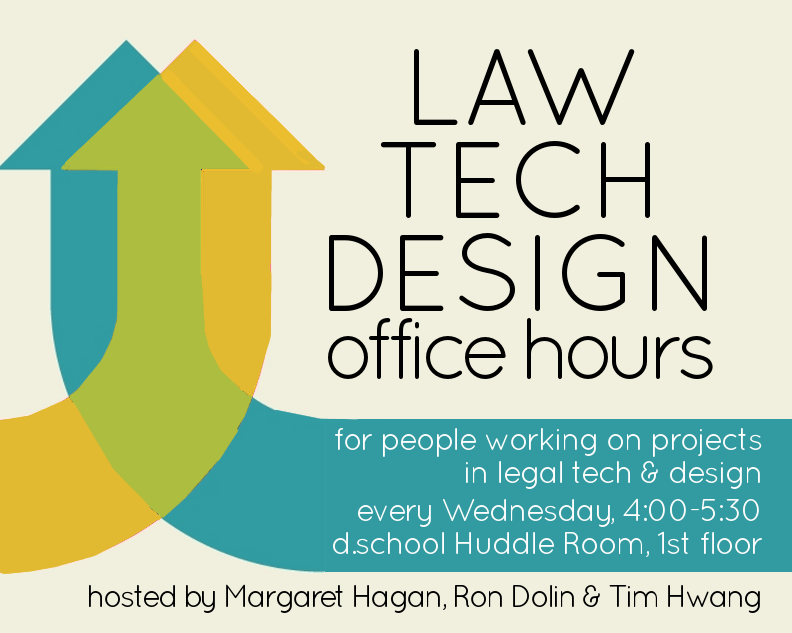 We've been relatively quiet up here on the Robot, Robot & Hwang blog – but it's largely been because we've been deep in a summer of coding and scheming for the upcoming Fall. Today, we're thrilled to make three big announcements:
FIRST – As of this week, RR&H is collaborating with the wonderful Ron Dolin and Margaret Hagan on a regular weekly series of open office hours at Stanford Design School for anyone that wants to come to talk law, technology, and design (in any order). We're hoping it'll be a way to expand the community of people interested about these issues, and keep a regular standing discussion for folks working in the space going.
SECOND – After meeting the inimitable Monica Bay, RR&H has been given the terrific opportunity to be a regular contributor to the venerable Law Technology News – which (I'll check) officially smashes the ceiling for robot lawyers in journalism. We'll be appearing monthly starting in October, and covering a whole range of issues both big and small in the space.
And, finally, casual monthly meetups are back in action, alternating months in SF and Silicon Valley – if you're interested in coming with, join up on our mailing list. Next one will be October 15 in SF, hope to see you there!